Disclosure: This post contains affiliate links. If you click through and buy, TravelingMom may receive a small commission at no additional charge to you.
Grapevine, Texas is the Christmas Capital of Texas. But the holidays are not the only time of year Grapevine is fun to visit. This quaint Texas town near Dallas/Fort Worth is also home to exciting year-round attractions, including Great Wolf Lodge, LEGOLAND Discovery Center and SEA LIFE Aquarium. Make plans to spend a few days exploring the wide range of family-friendly things to do in Grapevine!
9 Fun Things To Do in Grapevine, Texas
Grapevine is only a six-minute drive from Dallas/Fort Worth International Airport, so it is an ideal stopover if you're traveling in Texas with kids. Plan to spend a few nights and enjoy the big family fun this small town has to offer. From a vintage Christmas train to an indoor river walk, here are a handful of reasons why we love Grapevine.
First of all, make plans to enjoy Grapevine's small aquarium. Located in Grapevine Mills Mall, SEA LIFE Aquarium is an intimate labyrinth of sea creature encounters. The average visit lasts a little more than an hour, but in that time children will delight in seeing aquatic life from all angles. They can look down through glass floors, peek up through kid-size bubbles in the tanks and walk through a 360-degree glass tunnel. There's also Shark Mission, Stingray Bay and a small play zone to keep active children entertained. Finally, kids will love the touch pool, where they can stroke starfish and allow sea urchins to nibble on their fingers.
Also located in Grapevine Mills, LEGOLAND Discovery Center is not huge, but it is jam-packed with pint-sized fun. Guests begin their visit with a LEGO Factory Tour, where kids hear a fanciful story of how LEGO bricks are made. From there, they hop aboard a chariot and help the Good King battle Evil Skeletons and Giant Trolls by shooting lasers from toy guns. Then, following the ride, visitors can choose where to spend their time. There are 4D movies, a pedal-powered flying ride, obstacle course challenges and endless brick-building opportunities. The average LEGOLAND visit lasts about two hours.
Great Wolf Lodge is best known for its 84,000 square-foot indoor waterpark, with nine waterslides, six pools, a lazy river and a giant water fort. In summer, the full-service family resort provides a respite from the Texas heat. But winter provides a cool treat too, as the resort transforms into Snowland. Snow machines run three times daily, filling the air with fluffy white flakes. Children are invited to write letters to Santa and to attend North Pole University, where they train to be Santa's helpers.
Read More: Bigger is Better! Check out Kalahari Texas
In addition, Gaylord Texan Resort offers seemingly endless holiday events for families to enjoy, from cookies and milk with Mrs. Claus to a new interactive experience featuring Buddy the Elf. For the more adventurous, there is an outdoor ice skating rink and indoor snow tubing. Usually, the hotel offers a bone-chilling 9-degree ICE! attraction, but this has been canceled for the past two years. In summer, families will enjoy the 10-acre outdoor waterpark, Paradise Springs.
5. Christmas Capital of Texas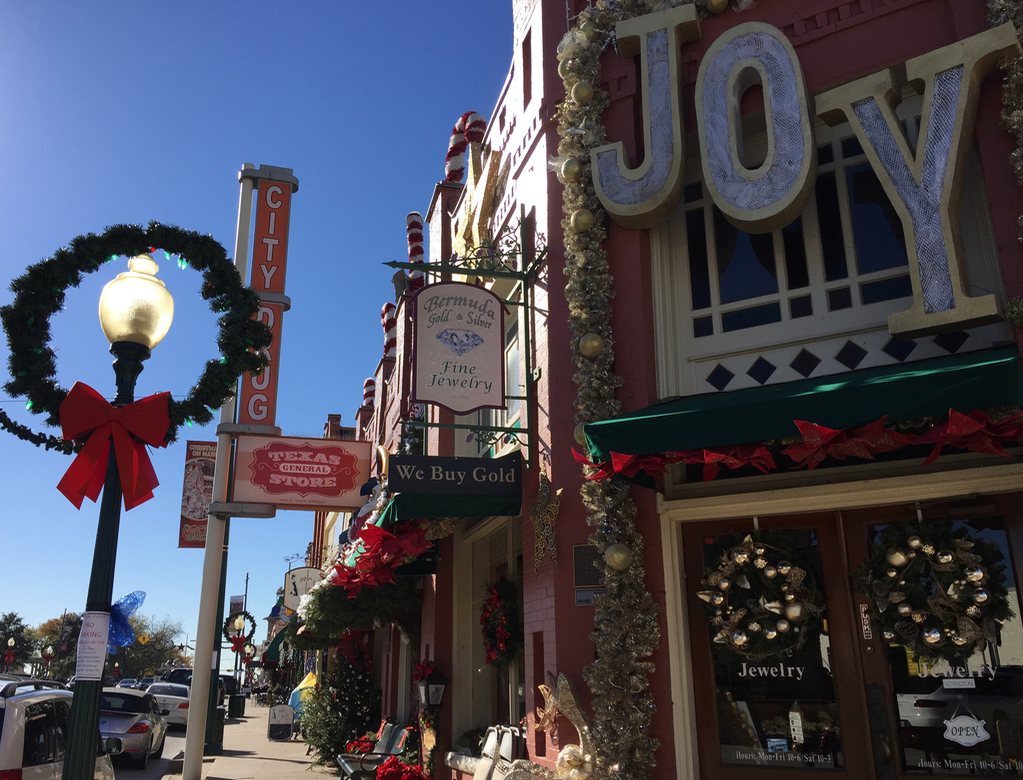 Grapevine, the Christmas Capital of Texas, plans 40 days of festive events, many of which are free! Don't miss the annual Parade of Lights down Main Street or the City Hall Light Show Spectacular. Be sure to check the schedule and plan your visit so you can pack it full of holiday fun.
6. Downtown Grapevine
Grapevine's Main Street is listed on the National Register of Historic Places, and a visit here will make you feel as if you've stepped back in time. Families can take advantage of rustic photo opportunities while enjoying the many lights, decorations and quirky surprises around every corner. Be sure to seek out the caroling snowmen and Captain Christmas, an animatronic singing reindeer.
7. North Pole Express
No visit to the Christmas Capital of Texas would be complete without seeing the real, live Santa Claus. Hop aboard Grapevine Vintage Railroad's North Pole Express, which departs from Main Street. On your 45-minute journey, you will enjoy caroling in Victorian rail coaches and visiting with Mrs. Claus, who presents each passenger with a silver bell necklace. After exiting the train, guests walk through snow flurries to a musical show where a cast of elves introduce Santa. Tickets for this delightful event go on sale in July and sell out, so be sure to plan ahead for this one.
8. Extreme Glassblowing
VETRO Glassblowing Studio & Gallery is a state-of-the-art facility where guests can give glassblowing a try. Glassblowing classes teach participants age 14 and up to work with 2,100-degree material in a 2,400-degree furnace. If you would appreciate a less intense experience, you can stop by the studio and watch live demonstrations by the experts. It is fascinating to learn about color formulas and techniques from nationally recognized glass artists.
9. Free Museums in Grapevine
Finally, while in Historic Downtown Grapevine, be sure to visit the free Settlement to City Museums that are tucked away behind the Grapevine Visitor Information Center on Main Street. Learn about Grapevine through the ages, from the 1800s on, as you tour lovingly restored historic buildings, including a two-room schoolhouse. Check the website for holiday events. Family Saturdays cost $5 in advance and include activities like making a Victorian Christmas ornament.
Visiting Grapevine Texas During the Spring? Here's Where to Find Texas Bluebonnets
Although bluebonnets, the state flower of Texas, bloom everywhere across the state, one of the best places to find them is the Texas Hill Country. You will be able to find bluebonnets in and around Dallas as well as near lakes, fields or parks throughout Texas.
Join our Private FB Group for more travel inspiration and tips! JOIN HERE
Bluebonnets bloom from late March to early April (varies depending on how cold the winter was). More on where to find bluebonnets here.
Plan Your Visit to Grapevine
You might also enjoy reading 5 Reasons to Spend a Long Weekend in Grapevine, Texas.
To get started planning your own adventure in the Christmas Capital of Texas, visit the Grapevine Convention and Visitors Bureau website and follow Visit Grapevine on Facebook.
Check below to see some of the accommodations available to book near these attractions in Grapevine, Texas: