Muggles and wizards, rejoice! Diagon Alley, part of the The Wizarding World of Harry Potter at Universal Studios Florida has cast a spell of enchantment over Universal Orlando parkgoers. Melodious TravelingMom and her teen and a tween picked their top 5 experiences, so before you go, "Stupefy" (freeze) and read these!
5 Best Things about Diagon Alley at The Wizarding World of Harry Potter, Universal Orlando
Universal Studios Florida has many amazing attractions, none more so than the immersive offerings located in Diagon Alley at the Wizarding World of Harry Potter. My teen and tween were in awe of the details and the complete immersion into the familiar haunts from the Harry Potter series. According to them–ages 15 and 11–the 5 best things about Diagon Alley are:
1. The Butterbeer
My kids absolutely insist that Butterbeer is THE number one draw of Diagon Alley. How appropriate since it's also the beverage of choice at Hogwarts! Butterbeer is best described as a sweet concoction of shortbread and butterscotch. And yes, they are non-alcoholic! The Harry Potter series author J.K. Rowling imagined it to taste "a little bit like less sickly butterscotch."
My kids are such fans of Butterbeer, we found numerous recipes online to make it at home! (The actual recipe is classified, but many have speculated and arrived at their ideas of what ingredients make the perfect Butterbeer.) Butterbeers are available cold or frozen at the Leaky Cauldron in Diagon Alley.
2. Interactive wands from Ollivanders and interactive spots
Getting a wand from Ollivanders wand shop turned out to be an absolute must. My tween still plays with his at home. Even though my son already owns a wand, I knew he would want to get one from Ollivanders. What I didn't know was that Ollivanders has special interactive wands that can make unique spells come to life in both parks! Say what?! Complete with a map showing the locations of these interactive locations, the wand owners eagerly set out to complete all the spells. Even the bystanders have fun watching wizards and muggles alike trying their hands at magic.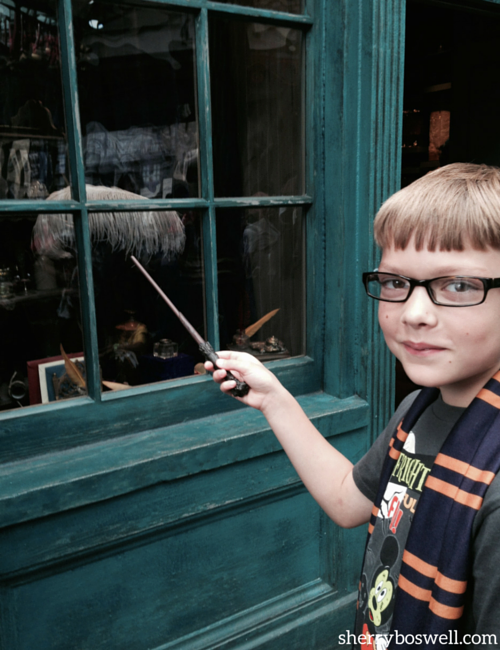 3. "Harry Potter and the Escape from Gringotts" attraction
I'm a Disney gal at heart, so I know all about using FastPasses at Walt Disney World for the more popular attractions. So it's a BIG deal when I wait in a line for an hour for a ride. That being said, let me tell you: This attraction is well worth the wait! Once the queue moves indoors, you feel as though you've been transported to the actual Gringotts Wizarding Bank, complete with goblins.
This attraction is both 3-D and also a motion based steel roller coaster ride! The combination makes it unlike its counterpart, "Harry Potter and the Forbidden Journey" in Hogsmeade (located on the Universal Islands of Adventure side) and all the more breathtaking!
TravelingMom Tip: To buy the Express Pass or not? That is quite a subjective question. We did since we were only doing Universal in a day, and I wanted to minimize line waiting time. CAUTION: the Express Pass does not apply to any of the Wizarding World of Harry Potter attractions. So if Harry Potter is the main draw for you, I recommend you save the money and put that towards your purchase of multi-park passes. My fellow Traveling Mom Leslie shares her tips and hacks for Universal, and Tara offers her secrets of Diagon Alley.
4. The fire-breathing dragon at Gringotts
You won't be able to miss this one, but you also won't be able to predict when it will happen. That's on account of the Ukranian Ironbell dragon that towers over the entrance. You hear gasps and lots of oohs and aahs when the dragon decides to make his presence felt. Brace yourself-he's firebreathing!
5. King's Cross Station and Platform 9¾ to catch the Hogwarts Express to Hogsmeade
If you are fortunate enough to have tickets to both parks, I highly recommend you forgo walking and choose to take the Hogwarts Express to Hogsmeade. Finding Platform 9¾ is easy; how you will pass through is another matter indeed! The optical illusion of passing right through the brick wall is AMAZING. Or is it magic?